Dear Tempe Republican:
My name is Joe Neglia, and I want to help Constitutional Conservative Republican candidates win. I am tired of government overtaxing and overspending, endless government programs, economic stimulus and bailouts, taxpayer funded sports arenas, violations of the Constitution such as Obamacare, warrantless NSA mass surveillance, etc.
It's up to us to help change things.
Did you know that in our precinct (the "Cairo" precinct), active Democrats outnumber active Republicans? In fact, we just barely outnumber independents. For this reason, it is important that we get out and vote in every election. The job of a Precinct Committeeman is to Get Out the Vote. That is why I'm running for re-election as your Precinct Committeeman.
As your PC, I was elected and currently serve on the LD26 Republican Committee Executive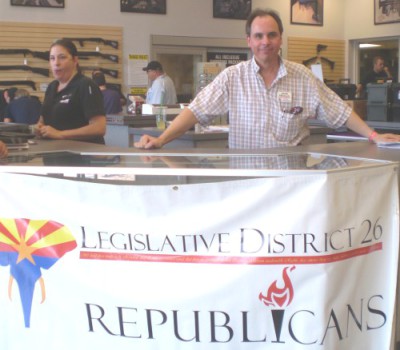 Board as Treasurer, and was also elected and currently serve as a State Committeeman, participating in the Maricopa County and Arizona Republican conventions. I actively participate in Voter Outreach and LD26 Republican Committee events and fundraisers, and, most importantly, I support our Constitutional conservative candidates.
In Arizona overall, Republicans outnumber Democrats by a 7 to 5 margin. But our Legislative District (LD26) and our Congressional District (CD9) have been gerrymandered to put Republicans in the minority. To win, we need to get out the vote.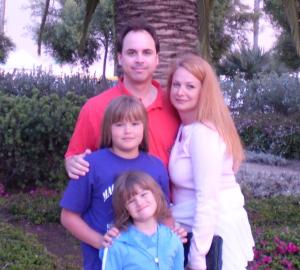 You have already proved to be an active participant in the process; you have read my mailing and viewed this website. You are also likely to vote in the primary and general elections. I salute you -- and hope to get more Republicans in our precinct to do the same.
The question is: how do we do that?
In my opinion, one way we can do that is to help our Republican voters become familiar with our local Republican candidates.
It is a rare individual who is familiar with the local candidates. Sure, we all see the signs and may recall some of the names, but do we know what they stand for?
Most of us don't.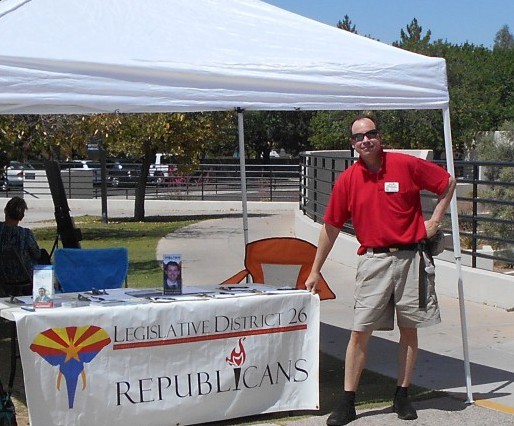 And if we don't know them, voting becomes an exercise in irrelevance, and many don't bother with it. Especially in the primaries. And if we, registered Republicans aren't enthusiastic enough about our own candidates to vote for them in the primary, how can we expect non-Republicans to vote for them in the general election?
So, how do we get our own base engaged and excited about our candidates? Here's my plan.
Let's get our candidates in front of us. Not just with signs and websites, but with substantive debate on the issues that matter. Controversial issues. The issues that will be discussed in the general election.
Normally, the only way to see our candidates in this way is to attend our monthly Legislative District 26 meetings and to attend the occasional debates that are sponsored by the local media or other groups.
But it is difficult for most of us to do this. Especially difficult for those of us with jobs. Or families. Or both. Just the kind of good people we need most in the voting booth.
To get this information out to more of our precint's Republican voters, I have put together a web page for our precinct that contains links to debate videos and candidate websites:
Cairo Republican Voter Information
At this site, you will see debate videos for the current and prior elections. Also posted on this site is our Republican precinct ballot. Click on the name on the ballot and the candidate's web site opens for you.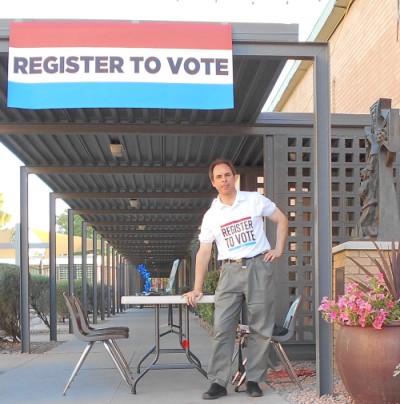 I'll be sending out announcements when new material is posted. If you would like to receive these announcements, send me an email with "SUBSCRIBE" in the subject line, and I'll add you to the list. Your email address will be kept confidential.
This source of Republican information will be promoted in our precinct with occasional mailings or door hangars to Republican homes in our precinct. The idea is to get as many Republicans engaged in the process as we can. This is my goal as your precinct committeeman.
Sincerely,
Joe Neglia